As the nation's oldest continuously inhabited European-established settlement, this quaint city has been welcoming settlers for over four centuries. Today, the steady influx of new residents to St. Augustine is no colonial expedition, but a modern migration of individuals and families searching for a unique blend of old-world charm and contemporary living. But what is it about St. Augustine that beckons people from all walks of life to lay down roots? From its cobblestone streets echoing tales of yesteryears to its vibrant arts scene, let's dive deep into the allure of St. Augustine and uncover the reasons behind its increasing popularity as a chosen home.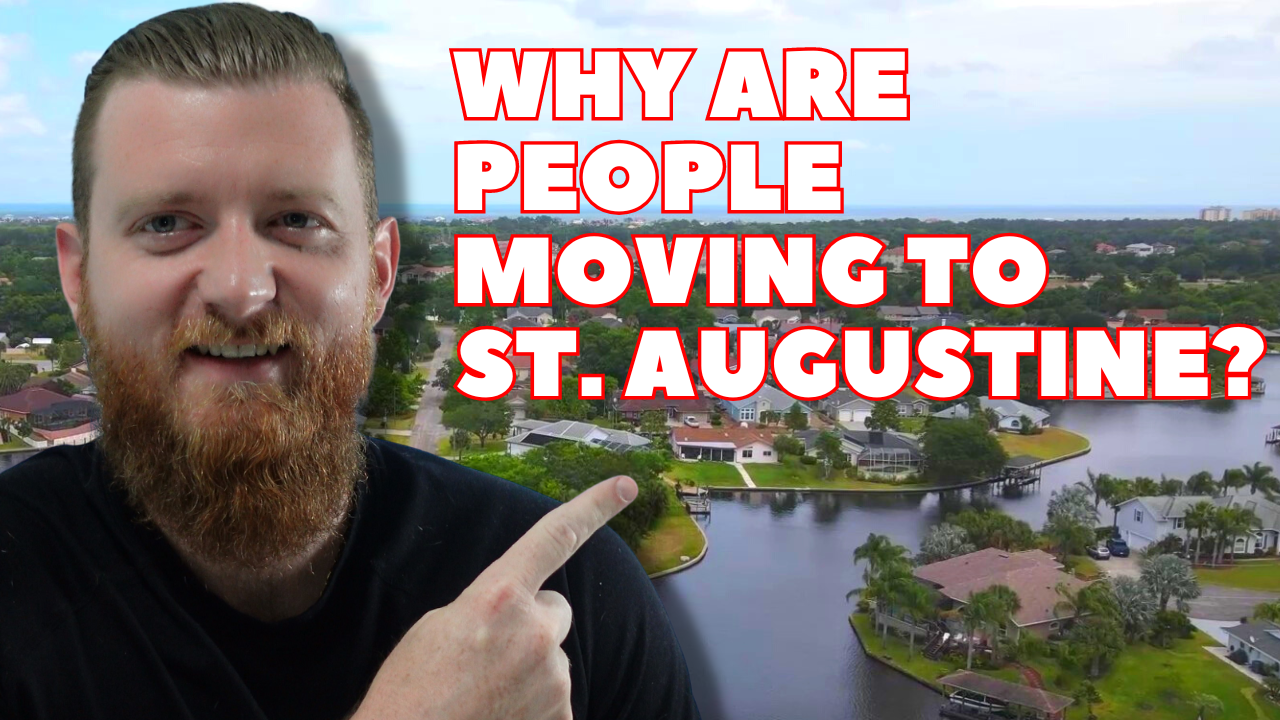 Brief Background on St. Augustine, Florida
St. Augustine, situated on the northeastern coast of Florida, holds the distinguished title of being the oldest continuously inhabited European-established settlement in the continental United States. Founded in 1565 by Spanish explorer Pedro Menéndez de Avilés, the city predates other well-known colonial settlements like Jamestown and Plymouth by several decades.
The city's rich history is evident in its well-preserved architecture, with landmarks such as the Castillo de San Marcos, a massive stone fortress constructed in the late 17th century standing as a testament to its colonial past. Over the centuries, St. Augustine has been under Spanish, British, and American rule, and each era has left its indelible mark on the city's culture, architecture, and overall ambiance.
The influence of Spanish colonialism is especially pronounced, evident in the city's narrow, winding streets, its historic churches, and its many buildings bearing the distinct architectural styles of centuries past. The city's historical district, with its cobblestone lanes and colonial buildings, transports visitors back in time, offering glimpses into the days when Spanish galleons anchored off the coast, and the echoes of conquest and discovery filled the air.
Beyond its rich history, St. Augustine today is known for its scenic beauty, from its pristine beaches to the tranquil waters of the Matanzas River. The city seamlessly blends the old with the new, offering modern amenities and conveniences while ensuring the preservation of its historical essence.
For residents and visitors alike, St. Augustine provides an immersive experience, a place where the past meets the present, and stories of explorers, pirates, and settlers are forever etched into its landscape.
The Rising Popularity of St. Augustine Among Relocators
In recent years, St. Augustine has witnessed a surge in its popularity among those looking to relocate. What was once a well-kept secret known mostly for its historical significance has now blossomed into a sought-after destination for individuals and families alike, and there are several reasons for this newfound appeal.
Natural Beauty and Beaches
St. Augustine's coastline boasts some of Florida's most pristine beaches. Places like St. Augustine Beach and Crescent Beach are characterized by soft, white sands and gentle waves, providing a tranquil setting for relaxation and recreation. Away from the coastline, the area's natural beauty continues to captivate. The Matanzas River offers serene waterside views and activities, while Anastasia State Park provides a haven for outdoor enthusiasts with its rich biodiversity and recreational options.
Vibrant Arts and Culture Scene
St. Augustine is a melting pot of arts and culture. The city is home to a plethora of art galleries showcasing both local and international talent. Music enthusiasts will find a range of venues hosting live performances spanning various genres. Theaters in the city often stage both contemporary and classic plays, bringing drama and storytelling to life. Events like the Nights of Lights festival, which illuminates the city in a stunning display during the holiday season, and the St. Augustine Music Festival, celebrating the city's musical heritage, are annual highlights that draw thousands.
Top-Notch Educational Institutions
Central to the city's educational landscape is Flagler College, not only renowned for its academic excellence but also for its historic campus, a former luxury hotel from the Gilded Age. Beyond higher education, St. Augustine boasts a selection of commendable public and private schools, making the city an appealing destination for families prioritizing quality education.
Friendly and Inviting Community
Residents of St. Augustine are known for their hospitality. Newcomers often remark on the city's warm and welcoming nature, which aids in smooth transitions. The city's community-centric ethos is evident in its frequent events, bustling farmers markets, and local groups that actively foster a sense of belonging and camaraderie.
Thriving Local Economy
Tourism, undoubtedly, is the backbone of St. Augustine's economy, drawing visitors keen to experience its history and beauty. The resultant demand has led to the growth of numerous small businesses, from boutique hotels to artisanal cafes. The community's conscious effort to support these establishments further fuels the economy. Moreover, diverse job opportunities in sectors ranging from education to the arts make the city an attractive destination for professionals.
A Blend of Old and New
Walking through St. Augustine is like traversing time. Historic landmarks, such as the Castillo de San Marcos and the Lightner Museum, stand majestically alongside modern establishments, offering a unique juxtaposition of the past and the present. The city's commitment to preservation ensures that while contemporary needs are met, the rich historical tapestry remains undisturbed.
Affordable Living Compared to Other Florida Cities
While Florida boasts several attractive destinations, St. Augustine stands out for its affordability. Compared to cities like Miami or Orlando, the cost of living here encompassing housing, utilities, and other expenses is noticeably lower, making it a financially viable option for many.
Proximity to Major Florida Attractions
St. Augustine's strategic location is a significant advantage. Major cities like Jacksonville, Orlando, and Daytona Beach are within comfortable driving distances, allowing residents easy access for both business and leisure. Furthermore, the city serves as a convenient base for exploring other renowned Floridian attractions and parks.
Conclusion
St. Augustine is not just a city, it's an experience. The myriad reasons people are drawn to it, from its historical roots to its modern-day vibrancy, culminate in a singular, undeniable charm. For many, the allure of St. Augustine is not just about living in a city but embracing a lifestyle that's rich, diverse, and deeply connected to both its past and its promising future.